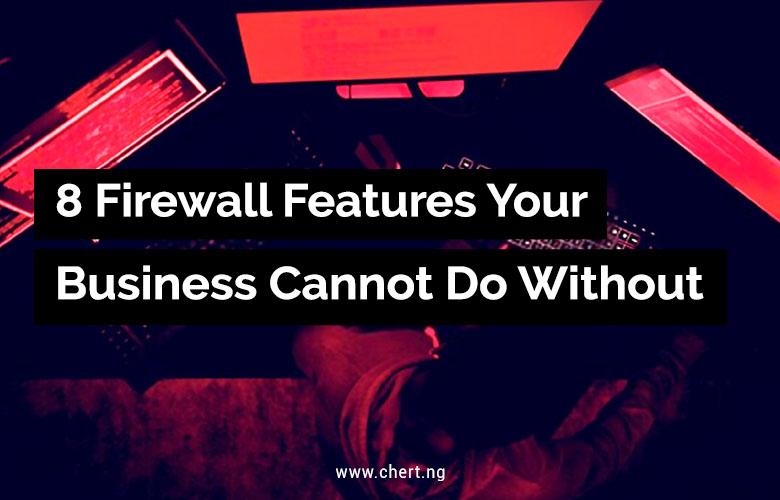 Any computer connected to the internet can find and connect to any other connected computer. The firewall serves as the barrier between the internet and your computer or network. The firewall stands guard monitoring anyone coming into or leaving your network if they are permitted to or not.
Depending on the configuration of your IT infrastructure, medium-sized and large businesses may need a hardware firewall in addition to basic personal firewall such as Windows Firewall
A firewall protects you against hackers breaking into your computer. It also offers protection from viruses that spread from computer to computer over the internet. Firewall features your business can't do without:
1. Identity Management and Single Sign On - Single Sign On (SSO) is a feature of identity and access management that means users can authenticate their identity safely and security via multiple applications and websites by logging in a single time. If you control your users by department, function or even site, then integrating their access into group management for users and SSO cuts down the administrative overhead.
2. Intrusion Prevention System - An intrusion prevention system (IPS) is the latest advancement form intrusion detection system (IDS). IPS ensures employees and network guests are deterred from breaching the rules of policies. If they don't follow the rules, the firewall will detect suspicious activity on the network, block the traffic, and provide a report.
3. Malware and virus filtering - Some advanced firewalls can communicate to all your endpoints, quickly flagging any compromised systems through active monitoring. Instantly, the firewall will block or limit network access to these devices until the issue is rectified.
4. Virtual Private Networks - With a VPN, you can allow users to access applications and data securely from remote locations. A VPN ensures privacy and security through an encrypted tunnel that transmits the data between the remote user and company network.
5. Integrated Wireless Controller - Using a firewall with an integrated wireless controller is a fantastic way to save money and bring all your policies and control them in one platform. You can set up all your sites using the same policies. This lets your users roam between sites without needing to connect or enter passwords at each site.
6. Logging - Having access to logs on a firewall gives you up-to-minute information about what is happening on your network. Firewall logging allows you to see if a new firewall is performing well; if malicious activity is occurring on your network, any repeated unsuccessful login attempts from a particular IP address and if someone is using your system as a launchpad
7. Web filtering - Most firewalls allow you to block access to websites. Things you may want to stop employees or guests being able to do on the network could be: illegal activities, downloading illegal content, gambling and many more. Vendors like Cisco and Fortigate automatically update their lists of whitelisted websites by updating their IP addresses and domain names.
8. Bandwidth control and monitoring - With bandwidth control on your firewall, you can allocate different amount of bandwidth for different systems or department in your company. You can control bandwidth available for sites, applications and users. This means that more important traffic can be set to go over your higher quality links when quality really matters.